CHAIR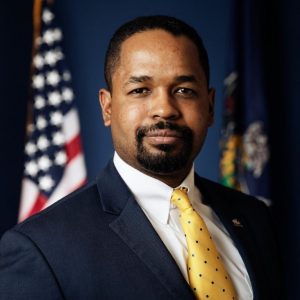 Senator Sharif Street was elected to Pennsylvania's 3rd Senate District (Philadelphia County) in 2016 and currently serves as Democratic Chair of the Banking & Insurance Committee.
Sharif began his public career as a community activist while attending law school at the University of Pennsylvania, where he also served as the President of the Penn Law Democrats.
While practicing law for nearly two decades, Sharif was a passionate advocate for underserved communities. He did extensive work in affordable housing and served as Chair of one of the largest drug and alcohol rehabilitation organizations in Philadelphia for 10 years.
As state senator, Sharif is committed to improving healthcare and housing access, reforming our criminal justice system, and advocating for economic development. He lives in Philadelphia.
VICE-CHAIR
Peggy Grove is a community activist and philanthropist, and has owned businesses in the Harrisburg since 1979. She founded the Academy of Medical Arts and Business and owns a commercial real estate company.
She is a member of the Pennsylvania Democratic Party and has worked on several national and local campaigns plus served two terms on Harrisburg City Council. Peggy helps children's causes through The Harrisburg Rotary Club's International Youth Exchange, Rotary Scholarship Committee, and numerous others.
Privately she gives scholarships through Harrisburg high schools and donates to the Harrisburg Parks Partnership, the Levitt Foundation, and The Whitaker Center, to name a few. "Helping children is what I'm all about," she states.
TREASURER
Representative Scott Conklin (SR-77) is a member of the Pa. House of Representatives since 2006. He is a Rush Township resident and has been married to his wife, Terri, since 1984. They have one son, Spencer, who was born in 1987.
In the state House, he serves as the Democratic Chairman of the Gaming and Oversight Committee. He also serves on the House Democratic Policy Committee, and is a member of the Alternative Energy, Early Childhood Education and Veterans caucuses as well as several others.
Before being elected to the state House in 2006, Conklin served as Centre County Commissioner for seven years. During his tenure as commissioner, he served as board chairman and chairman of the Salary Board, Retirement Board, Employee Benefits Trust, and Board of Assessment. Other county boards Conklin served on included Elections, Emergency Communications, Criminal Justice Advisory, Prison, SuperFund Amendments Reauthorization Act of 1986-Local Emergency Planning Committee, and the Finance Committee.
Conklin's community involvement stems from his positions on various community boards and within organizations including the Bellefonte/Intervalley Chamber, Chamber of Business and Industry of Centre County, Centre Region Metropolitan Planning Organization, C-Net and the United Way. He is a member of the Elks, the Pomona Grange, and the Mosquito Creek and Three Points Sportsmen's clubs. He also is a past member of the Builders Association of Central Pennsylvania.
Conklin is a member of the United Methodist Church. He and Terri are the owners of Conklin's Corner Antique Mall in Philipsburg.